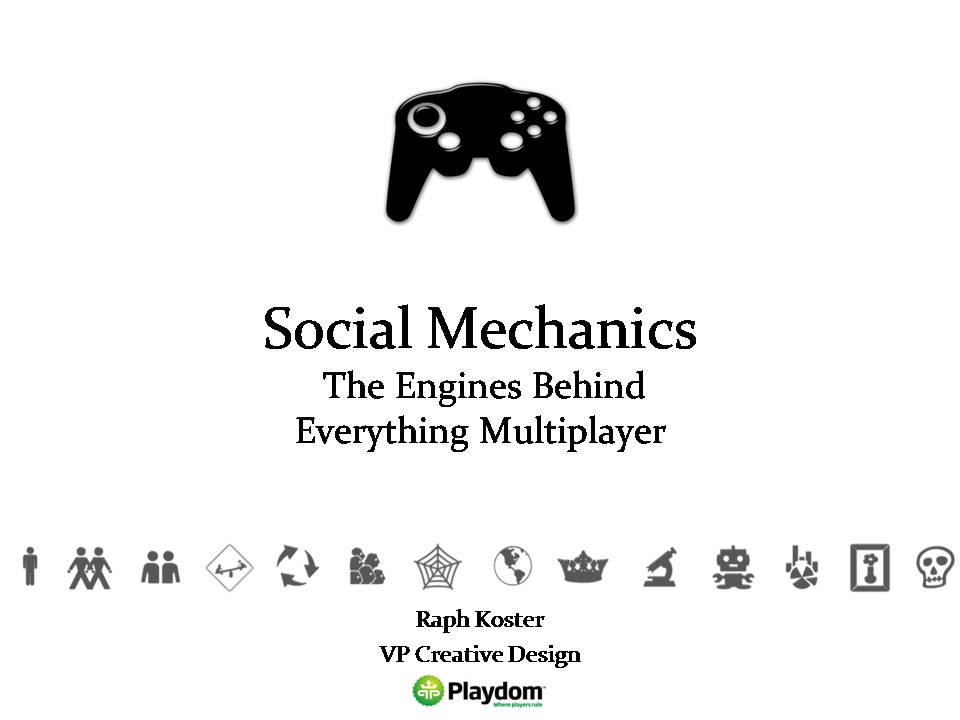 The intent of this talk was to do a "powers of ten" sort of look at multiplayer mechanics… not really to describe anything new, but instead to try to take the whole big spectrum of what we think of as multiplayer game design, and do a cross-disciplinary look at it. I covered a bit of game theory, a bit of psychology, a bit of evolutionary biology, a touch of history, a heavy dose of sociology, a dash of social networking theory, and of course, game design stuff.
My hope was that when done, it would both serve as a good context for thinking about multiplayer games of several sorts, and also as just a plain old reference, something to point at when discussing things like what the impact of gifts and wall posts are in social games, or why some MMOs have longer retention cycles.
So here it is as a PDF, for your perusal. I tried to make the slides stand on their own as much as I could, but of course, the actual voiceover would make many slides more comprehensible. For that, look for the actual session recording to appear on the GDC Vault.
Long-time readers will notice that there are bits here that reference and repeat elements of much older presentations. I recommend following up this one with the math-heavy but extremely related presentation on social network theory Small Worlds: Competitive and Cooperative Structures in Online Worlds (PDF), if you have not seen it before… I gave it back in 2003, a year before Facebook launched. 🙂 It digs a lot deeper specifically into many of the characteristics of large scale-free networks in games.