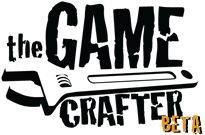 This is awesome, and I will be signing up tonight and probably throwing one of my board game designs up there to try it out. 🙂 The short form: CafePress for board game designers.
Their brief FAQ covers the basics.
At TGC, you can start selling your game with only the push of a button. There are no up-front fees, no contractural obligations, no distributors, and you don't need a big publisher to decide your game will sell 10,000 units in the first year.

TGC is your dream made simple!

Why TGC? We've been in the game design/manufacturing industry for over 10 years and published many of our own titles. We've always specialized in small run games, but we did it only for ourselves. Over the years we've gotten hundreds of requests from other indie designers asking if we'd publish their games, and finally we realized that our process could be applied to games other than our own as well.
Looks like they handle not just boards and cards, but also sell a nice assortment of parts that can go into the game. Not as wide an array as I have in my prototype kit, but decent nonetheless. 🙂