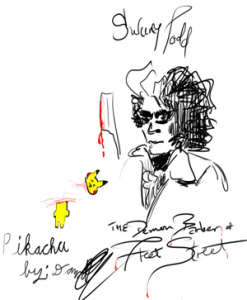 We watched Sweeney Todd tonight. The kids had my tablet PC in the room, so I grabbed it and doodled a bit. Then they got ahold of it. It was a bad end for one Pokemon who got the closest shave of his life, and perhaps ended up in a meat pie.
Was a bit disappointed that "More Meat Pies!" wasn't in there. Or this lyric, which has stuck in my head ever since some of our friends in college staged this musical as their senior project.
Attend the tale of Sweeney Todd

He served a dark and a vengeful god

He shaved the faces of gentlemen

Who never thereafter were heard from again
We'd been telling the kids for weeks about those two bits, singing them over and over…
So, why can the kids watch this with us, but not GTA? Good question. Perhaps because Rockstar just isn't Sondheim for me yet.