Over at WoW Insider, an article asks "Why are people leaving WoW?" They offer up this graph of concurrency from Warcraftrealms as evidence.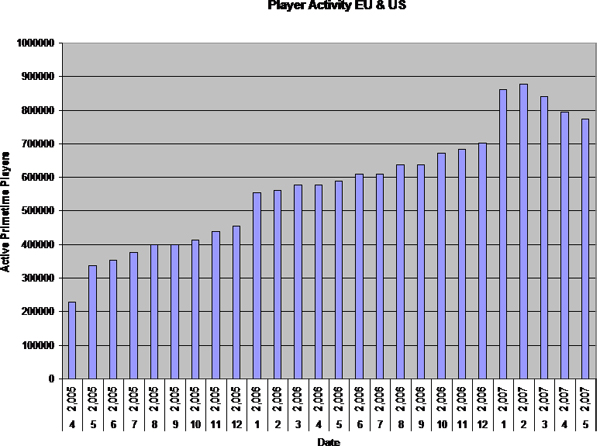 Well, here I am to explain. 🙂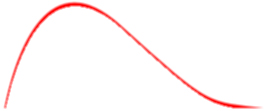 Take a look at this curve. This is how Open Big MMOs all go. A big rush, peaking a little bit after the launch. Then a plateau for a while, then a tailing off.
This curve is so regular that you can predict the peak from just a handful of datapoints. Assuming that the title is equally available everywhere, you can predict the peak from literally three data points, which you can get literally in the first few hours of launch. The question is the slope of the curve, not its shape. The tail of the curve will go on forever as long as there is availability — it slows down to a bare trickle, but it does keep going for ages and ages…
This curve also makes a typical shape for usage. What you hope for is a truly long and stretched out curve, if you have great retention. The tail, by the way, goes on forever here too, which is why MMOs don't die on their own, but pretty much have to be killed.
Assuming no major changes in availability, and no new markets being tapped, this is it: the entire shape of acquisition for your game, forever.
In practice, however, there are changes in availability. Sometimes it takes an extra day for the trucks to reach some states. Sometimes the game has staggered launches in different territories. Sometimes there's a holiday selling season, which in this business means "reach a new market" because it's when non-gamers buy games for each other. And sometimes you put out an expansion, or there's a patch that effectively opens a new market.
When this happens, you simply stack the curves. Again, it is so regular that you can even stack the curve on top, measure the gap between where you would have been and where you are now, and see the net result.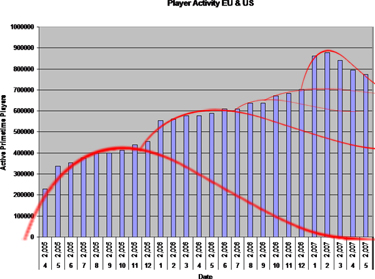 Now, I don't know what all the bumps on WoW's usage curve are, but it's pretty easy to see the huge Xmas 2005 bump, and the double bump of Burning Crusade stacked on top of Xmas 2006. Since this is a concurrency graph, not an acquisition graph, I'd surmise that 8/06 and 10/06 were patches of some sort that drove usage.
So, why is the concurrency falling off so much after Burning Crusade? Probably simply because it sold to existing users, not to new ones. People who were occasional players came back to try it out, then fell back quickly to their typical play patterns.
This is completely normal. Early expansions drive acquisition; later expansions drive retention. Sometimes, all you want from an expansion is to end up at a net 0 gain on your active accounts, because what the bump does is sustain you at a level, rather than keep declining.
Looking at the Burning Crusade curve above the curve below it, I'd guess that Xmas/TBC's net result was to hold around 50-60k concurrent (which is probably 60-70k accounts) for a bunch more months, for a total net gain. For a title two years out, in this market, that's great.
So, exercise for the reader is to go to the MMOGData.com charts and superimpose this curve on everything. Where it doesn't match, you can assume that the data is wrong — either delayed announcements, echoes of past peaks, or just plain incorrect. Oh — another exercise is that you can eyeball average user account lifespan for a game from this.