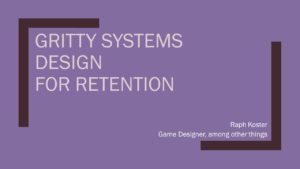 Here it is, in all its mathy glory: Gritty Systems Design for Retention.
I barely pulled off getting this one done in time. I knew what I wanted the shape of it to be, largely prompted by some of the design choices I saw in Pokemon Go. But I also knew it would involve an awful lot of spreadsheet work and an awful lot of graphs. And I wanted to make those graphs real, not just sketches, so that people could walk through the math and see how it worked.
So — I had notes, but then worked from 10pm to 3am the night before, and then from 9am to 2pm the day it was supposed to be delivered. I don't recommend cutting it quite this close (the talk was at 4:45, so I finished with not quite three hours to spare).