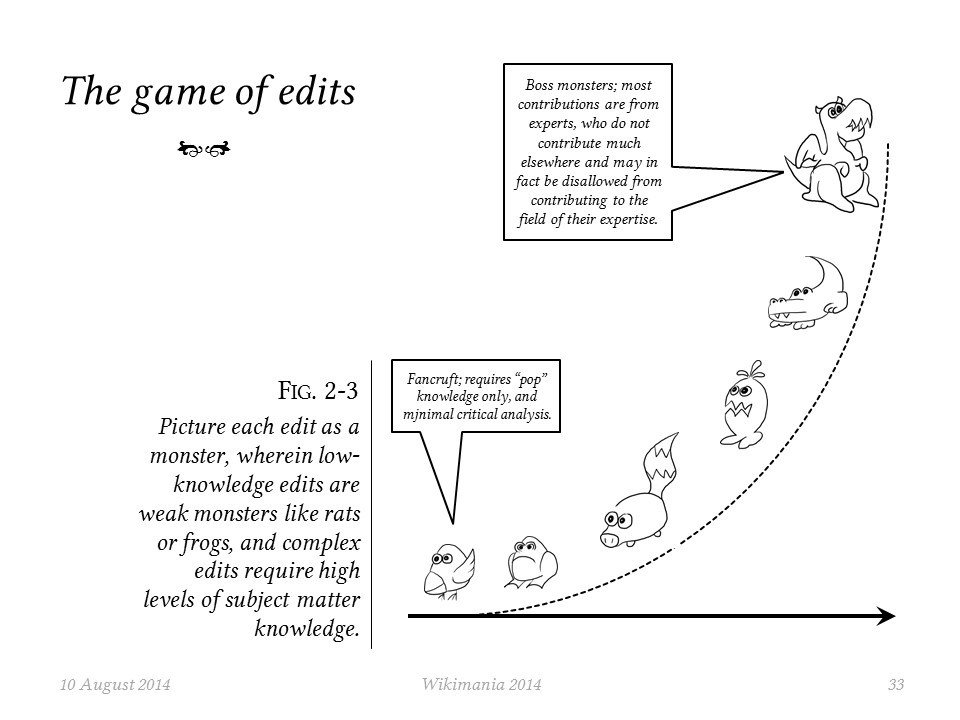 The tl;dr version is "go here for the talk."
This past week I was in London, attending Wikimania 2014. Many thanks to Ed Saperia and the organizers for inviting me to speak, it was a highly illuminating experience.
I gave a talk about seeing the Wikipedia experience itself as a series of games: the game of being a reader, the game of editing (or attempting to edit) the content within, and the game of active participation in the community, in terms of working with its policies, its infrastructure, and so on.
Along the way, my intent was to basically toss a few hand grenades in the general vicinity of the foundations of Wikipedia, and in fact of the larger Wikimedia project. This is one of the most idealistic projects in all of human history, and a group of highly intelligent and altruistic people who are fortunately very open to self-examination. So I felt that maybe questioning some of the fundamental assumptions about how they saw themselves and their project was something healthy, and maybe something that would be extra-helpful if done by an outsider.
To make it extra fun, I tried to make the slides look like they were from an old print book.
You can find the slides as a slideshow or as a PDF, and even video of the talk, all here on this new page I have created. I also participated in a panel with a bunch of wonderful folks, on the broader topic of virtual communities. That video is also posted there.
I left the conference thinking a lot about complex systems thanks to lengthy chats with Yaneer Bar-Yam, and toying with the idea of reframing my various definitions of play and games as just "dealing with complexity." About which more later, I am sure, as it continues to percolate.